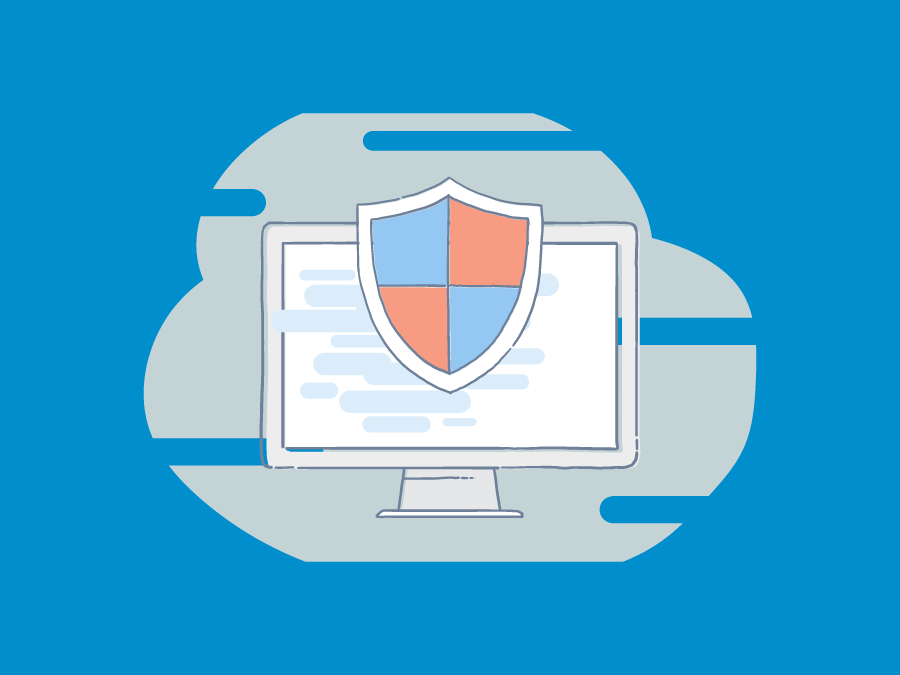 The Intelius Opt Out Process Explained
---
Prevent data brokers from posting your personal info online: Our software automatically identifies and removes your info from Intelius and 50 other common data brokers. This minimizes your risk of identity theft, scammers, telemarketers, and more. Get started in minutes with a free privacy scan here.
Intelius is one of the most common data broker websites around. Anyone can conduct a search and quickly find over dozens of data points on an individual. 
Some of this information includes relatives, aliases, education history, employment history, age, criminal records, and more. The sheer amount of information that can be found is cause for concern and you should seek to remove your own info as quickly as possible.
Opt out of Intelius Manually: Step-by-Step Instructions
If you prefer to remove your info manually, you can do so with the following steps. A few things to keep in mind: 
You will need to check back to ensure the data has been completely removed.
Your info is likely on many other sites. You will need to do a full audit and opt out of each site individually.
Monitoring your online presence will be crucial as it is common for your information to be reposted.
Step 1: Go to Intelius' opt out page on their website to get the process started.

Step 2: Fill out your first name, middle initial (if applicable), last name, and city and/or state in the search fields & click "search".
Step 3: Sift through the results to identify the record that contains your info. Once you locate it, click "Select & Continue".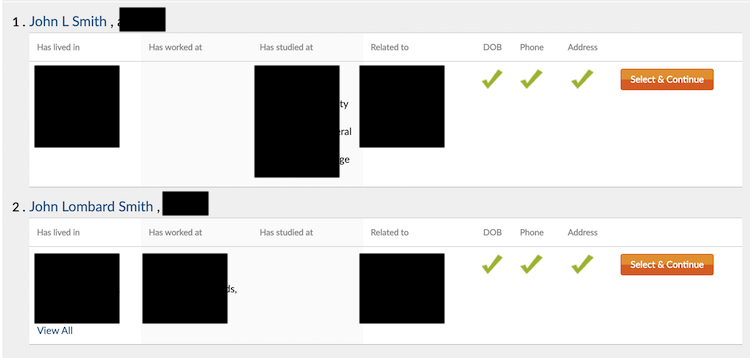 Step 4: Supply your email address and click "Continue" to submit the opt-out request. 
This requires that you have access to the email address you supply so make sure it is a valid and operational email.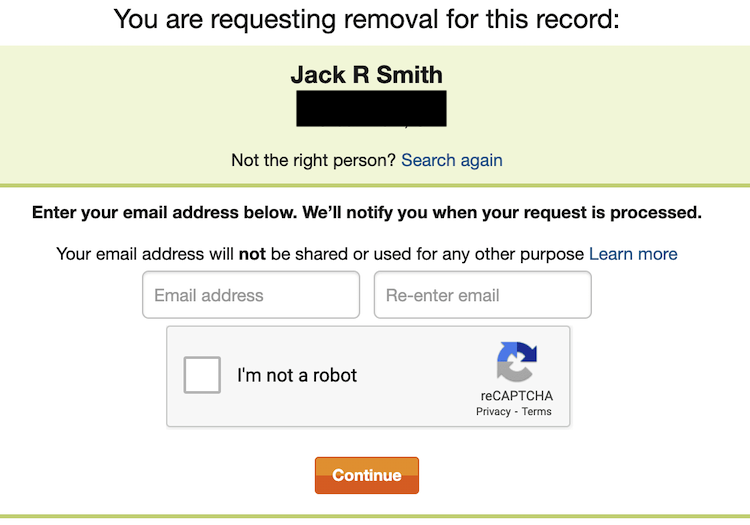 Step 5: Check your email for the verification email from Intelius. You will receive a reference number for your records.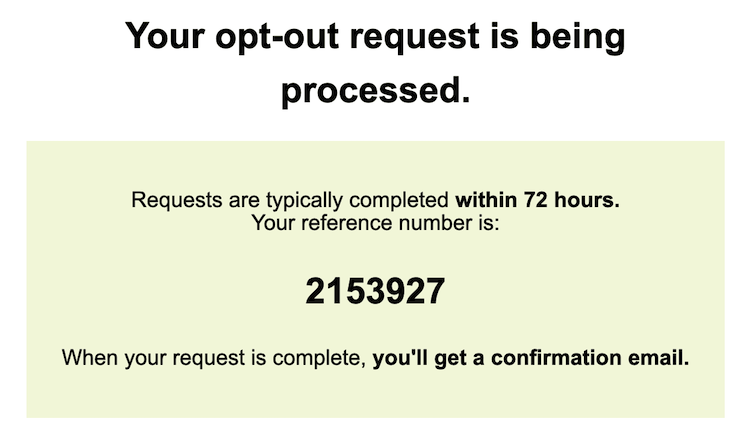 Step 6: In a few days, you will receive a confirmation email that the information has been removed from Intelius. 
We recommend conducting another search on Intelius to verify that this is the case.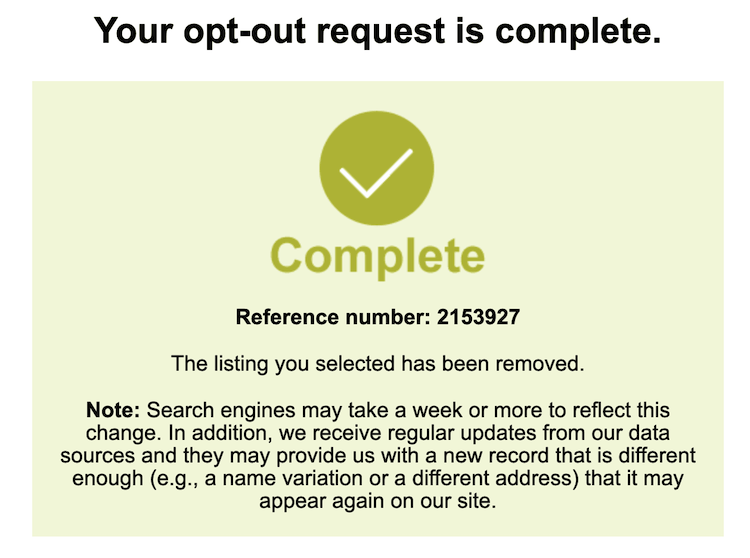 What other steps can I take?
Once you've supplied Intelius with the appropriate information to opt out of the site, you still face the challenge of dealing with all of the other similar sites still displaying your personal details. While you can likely follow a similar process with some of these other sites, this is not an effective long-term solution to this problem.
Once you've requested that 10 sites take down your information, an eleventh will pop up, or something similar.
So, while it's important to stay on top of sites like these, it's even more important to have an added layer of protection that reduces the likelihood that anyone will actually see these kinds of search results.
Automatically remove your info with BrandYourself
Here's where our Protect Private Info software comes in. Not only will it handle the Intelius opt out process for you, but it will also handle the removal from other popular data brokers. Here are some of the benefits of this process: 
We know which sites have your info and how to deal with them: Our technology quickly scans the most prolific data brokers sites and identifies if your information is on them. We stay up to date on each site's removal process and handle all of the removals for you.
Get peace of mind with our ongoing monitoring: While it's common for sites to repopulate info, we're constantly monitoring them and will remove any info we identify that has been reposted.
Where does Intelius' information come from?
Intelius is a self-described, "leading provider of public data about people and their connections to others"… but where are they getting this information from in the first place?
According to the company, "Intelius has access to many of the world's most extensive databases and public record repositories".
Even so, what is it that allows the company to sift through so much information then match the correct information to the correct person? The company claims that their own technology is what enables them to efficiently and effectively sift through billions of public records every year while providing these findings to their clients quickly.
According to the site, Intelius services 300 million requests every month for access to their database. While responding to these requests, Intelius is simultaneously scanning numerous databases for relevant information that relates to customer inquiries.
This means that the Intelius opt out out process might not be the only thing you need to do if you're trying to remove this information from the web.
How does Intelius display this information?
Intelius is a paid service, however the pricing varies depending on which service you choose. But to start, just type in the name of the person that you're looking for.
Remember to enter as many identifying characteristics in the space allowed (such as last known mailing address, state of residence, etc.). This will help you narrow down the results to the likely candidates (this is especially helpful when searching for people with very common names).
From here you can view potential matches, and some basic information about each result (such as age, location, and the names of relatives). Once you choose the likely match, you will be prompted to purchase one of the service options to view the complete report.
The site also offers the option of looking people up based on their phone numbers, email addresses and more.
Whether you're looking to screen an employee or find someone that you lost touch with, Intelius boasts a number of features to increase your chances of finding who you're looking for.
Another common question on how to opt out of Intelius:
One of the common questions we get is "how are sites like Intelius legal?" A lot of people feel that websites like this are invading the privacy of others and should be stopped through some form of legal action.
Unfortunately this is not something that is going to happen any time soon. As long as sites like Intelius are not posting information like credit cards or other legally deemed personal information, they will continue to keep on running. Addresses and phone numbers aren't going to be enough to make it stop.
Until then your best bet is to follow our recommendations for how to opt out of Intelius effectively. Keeping tabs on the industry isn't the worst idea either. Who knows, some policies might end up changing!
Get the Intelius opt out process started!
Now that you know what to do, go ahead and opt out of Intelius for starters. Once that process is complete, follow our suppression tips (or just use our free tool) and safeguard yourself from other similar or future threats.
Get started by trying out BrandYourself's DIY product with a free privacy scan.