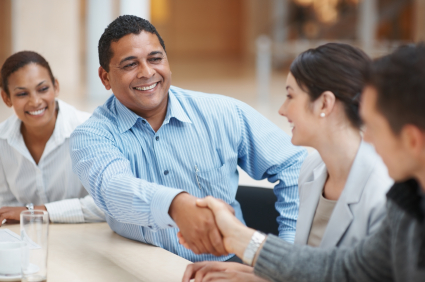 How To Be Relevant in a Job Interview
---
Imagine that you are working on a long-term project and you discover that you need someone's help to finish it.–there's just too much work to do. When considering who you will ask for help, you think about two very qualified people who have the necessary skill sets.  You call both to gauge interest. One of them talks about all the skills and experiences they have, while the other talks specifically about your project and how they can help you do what you need to be done. Which person impresses you most?
I don't know about you, but I am more impressed by the person who has directly addressed my need. I am interested in knowing their skills and past experiences, sure, but moreso in a context of how they will apply them to my need and add value to my project.
Job interviews are actually a very simple concept if you think about it in that light. In fact, the concept is exactly like the scenario described above. From an employer's perspective, the whole job interview process just comes down to one really big question, "How can you add value and fulfill this need in our company?"
When going into an interview, your goal should be to provide the best and most impressive answer to that question. But, how can a job seeker know exactly what the employer wants to hear? What IS this 'value' that the company wants?
The answer is simple. The value they are looking for is listed out in the job ad/description. Most job descriptions list out all this information for you. The job description shows you exactly what they want from you. So you should prepare for your interview using that as your guide. If no description is given, ask for one when you schedule your interview.
By the end of the interview you should have supplied the following information, in some fashion, when you were answering questions:
1. How your qualifications, directly or indirectly, meet their requirements and if they don't, how you will learn them or how capable you are of learning them (this includes your education, skills, and experience).
2. How your character traits and soft skills directly meet their requirements (add in all the other great things about you as well, but show how they are relevant!)
3. How and why you can successfully carry out the responsibilities required of the job (when asked to cite examples, this is the section of the job description that you will want to use to draw relevant success stories).
4. Why you are interested in the job/company and why you want to commit to them on a long-term basis.
5. Any additional relevant values and insight you can bring to them to help them grow as a company (this is where you think outside the box and show how you can bring more to them than what they are asking. Can you make things run more efficiently? Do you know more effective ways of doing this job? Think leadership here!)
It really is all about adding value to a job and company.
Oddly enough, though, job seekers continue to focus time and energy on explaining all their experience and skills, as well as all the reasons why they want to work there – whether this relates to the specific job requirements or not. Instead of focusing in on the skills and experiences you have accumulated and stating them as facts about who you are, it's a far better strategy to use specific and relevant examples of skills and past accomplishments that a prospective employer can relate to their need.
There is no doubt that you will likely have to spend some time talking in generalities about your skills and experiences. But the more you can connect them to the job description and requirements, the more relevant you become and the more interested the prospective employer will become in you.
Many employers ask situation- specific, behavior-related questions. And while many job seekers will give specific answers, these can oftentimes be irrelevant to the job opening. Don't talk about experiences that have nothing to do with the type of potential work you would be doing.  Answers like those are not deal breakers, but they don't mean a whole lot unless the hiring manager can relate your answer to their need.
For example, if the job description says the job is 100% customer focused and requires top notch customer service skills, don't tell the interviewer that your greatest strength is your ability to manage your budget. Your greatest strength should be aligned to their greatest need. Talk about the strengths you have when dealing with customers!
When preparing for a job interview, always remember that the job description of the position should be your main guide to the types of answers they are looking to get from you. Read it and know it!  If you make a concerted effort to be relevant to their needs, it will be much easier for you to prove that you are the right person for the job.
Jessica Simko is a seasoned senior level Human Resources professional with over 15 years experience in all facets of Human Resources Management. She is a Career Coach and Consultant specializing in helping all levels of professionals create, build, and sustain a strong career brand. She strives to help connect people to their passions and to leverage their brands in their job search and in their careers. Utilizing the career branding model, she offers job search and career branding articles as well as a variety of coaching services at the Career Branding Guide.  Feel free to connect with her on: