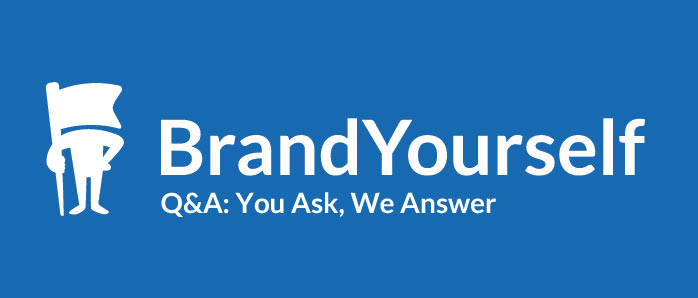 BrandYourself Q&A: Getting Started, the Fastest Way to Improve Results, Do Clicks Matter?, and Optimizing Your Profile Headline
---
Every week we get tons of questions about personal branding and reputation management from our members. Since we can't be on call to answer every question at all times, we're going to start posting answers to some of the most common questions we get. This week we're covering getting started with BrandYourself, the fastest way to improve results, whether clicks matter in ranking search results, and how to optimize your profile headlines.
—
Can BrandYourself be used for business and personal rankings?
Short answer: You need to use a personal name.
BrandYourself is a product designed to help individual people control search results for their name — because of this, the system does not work well with business names.
That being said, BrandYourself is a very powerful tool to control and monitor the results for your name and those of your employees. Since your employees represent your business on a daily basis, they can each create a BrandYourself account to control search results for their names, and make sure your business shows up when they're searched online.
How do I get started?
While this demo video uses the old website, the advice and steps are still relevant (and the design isn't THAT different). You can view it here.
What's the fastest way to push negative results down?
The quickest way is to leverage social profiles. They have content-rich about/bio profile pages, and they're part of a network/domain trusted by search engines so they're ranked higher and indexed quicker in general. They're also easy to connect to your other online presences.
Given these advantages, I'd recommend starting with social profiles since they're the easiest to set up and give you the best return on your time investment when you first begin improving your results. Our website lists out a ton of recommended profiles you can choose from on this page:
Does the number of people visiting a search result make a difference in its ranking?
While it can make a minor difference, for our purposes it's negligible. It would take a massive amount of clicks on a result over a sustained time period for the result to be significantly affected. You're best off focusing on improving the content, formatting and links on your profiles and links.
Note: With Google's most recent updates they've introduced personalized search results. This means they adjust and determine which results to show you based on your browsing behavior (i.e. what you click on ). In this case you'll see results moving based on what you search for, but this only applies to you—not to the rest of world. So in short, any differences you may see are likely based on your personalized search results.
What are the best social network sites to join?
See the above answer.
Is there any way I can modify my headline to improve my results?
Some good ways you can modify your headline to improve your results further is by including info such as your company, location, professional field, position, and even any pseudonyms along with your name. (e.g. Hi, I'm James Smith. I'm the VP of Marketing for ACME, INC. in New York, NY and I also serve freelance clients within the consumer web industry through my firm MKTG, LLC.)