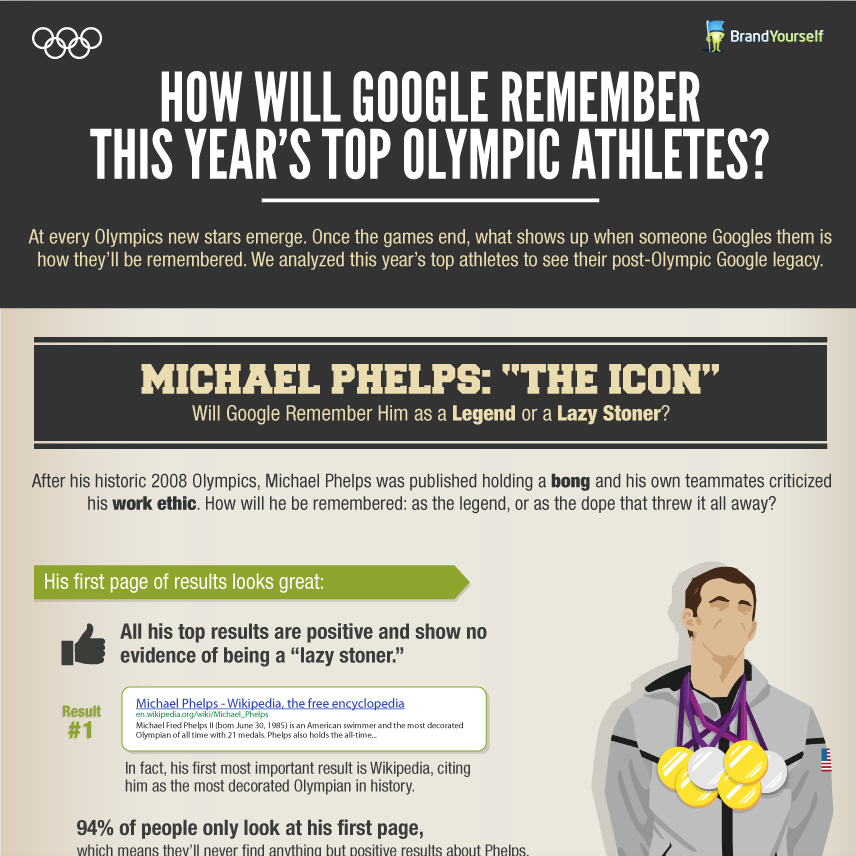 How Google Will Remember Phelps, Lochte and Gabby Douglas [LEGACY INFOGRAPHIC]
---
Every Olympics, new stars emerge and they're surrounded by a lot of chatter, both good and bad. However, once the chatter dies, their post-olympic legacy lives in Google, the place people will go for years to come to learn who they are and what they accomplished. While these results will change over time, we went in and analyzed the current Google results of this year's top Olympic Athletes to determine how they are remembered in the eyes of Google.
If the results stick, we learned some interesting, but not necessarily shocking, information:
Thankfully, Michael Phelps will be forever remembered in Google as a legend and not as the "lazy stoner" people recently hyped him to be.
Lochte will be forever remembered in Google as the "frat boy idiot" and not as the incredible 11 time olympic medalist he is.
Unfortunately, all the petty controversy around Gabby Douglas's hair takes away from her truly historic and inspring victory.
INFOGRAPHIC: What Do You Think?
Check out the infographic and let us know what you think. Is it fair that people's legacy is often in the hands of the media and Google?
See how some of the top reporters feel about all the athletes (quotes included below the infographic.)

What did the media say?
ESPN: 
"He [Phelps] will be treated as a sporting god the rest of his life. His records will be held in awe … until the media of a new day beams an image of a dashing young man who reminds us of a young Phelps." –Michael Wilbon, @RealMikeWilbon
 "Phelps will always be seen as an Olympic legend, and his status as the most decorated Olympian of all time will be difficult to beat."  –Darren Rovell,  @darrenrovell
HollyWood Gossip: 
"Ryan may have a long way to go to match Michael Phelps' career medal haul, but he's right on his tail in terms of celebrity gossip attention."– @THGossip
Gawker: 
"For Douglas, an athlete competing on the world stage, as long as her hair is not in her way, it should be fine. But some couldn't resist making snide comments on Twitter and Facebook, in a sad display of girl-on-girl crime. " -Dodai Stewart, @jezebeldodai
Bleacher Report: 
"After the talk-show circuit runs out of questions and the social media buzz moves on to the next major event (welcome back, NFL), Douglas and Franklin will go back to being regular American teenagers for a while." –Dan Levy, @DanLevyThinks
Yahoo Sports:
 "That's right, she [Douglas] didn't change it at all. She doesn't care what you think about her hair." –Maggie Hendricks, @maggiehendricks
CBS Sports:  
"He [Phelps] is universally received as the greatest swimmer in the history of this planet by anyone with a modicum of understanding of the sport. Plenty believe that 22/18 mark also makes him the best Olympian the world has ever seen. That debate rages on, while Phelps' career comes to an end."–Matt Norlander, @MattNorlander
Sports Illustrated: 
"Now that his Olympics are done, the silly season has begun for swimmer Ryan Lochte." –Phil Taylor, @SI_PhilTaylor
Fox Sports: 
"Unfortunately, Gabby Douglas, this is the other side of fame." –Bill Reiter, @foxsportsreiter
What do are your thoughts? Do you think it's fair that people's legacy is often in the hands of the media and Google? Let us know in the comments!