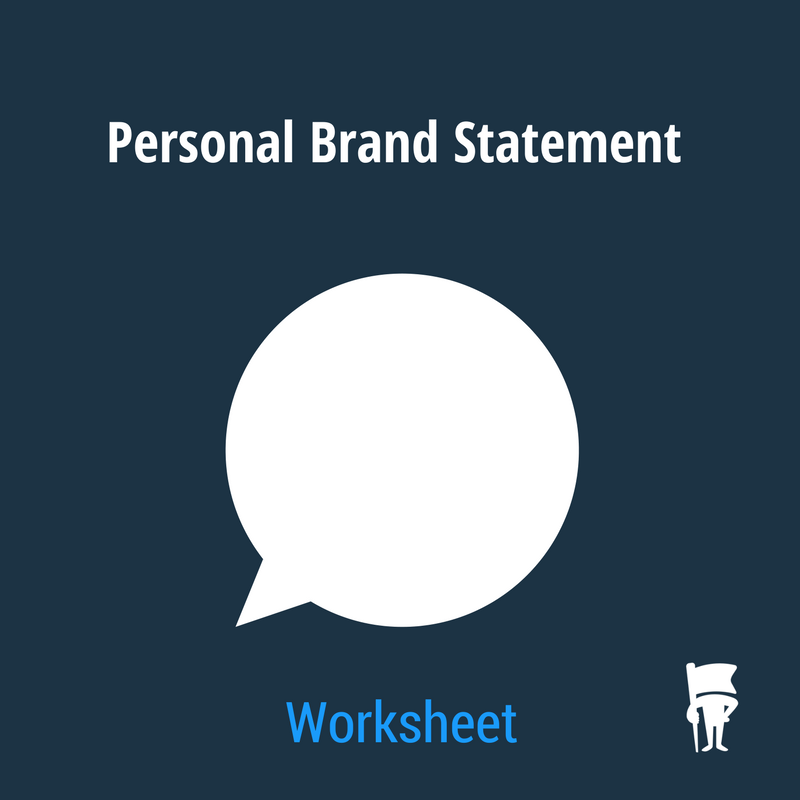 GUIDE: How to Write Your Personal Brand Statement
---
What is a Personal Brand Statement?
Your Personal Brand Statement concisely describes what you do, who you do it for, and why you're the best person for the job. All the masters of personal branding have one.
You'll use variations of it across your online presence to quickly communicate why people should work with you over your competition.
Your Personal Brand Statement has four parts:
The expertise you provide. Let's say it's financial management.
The endgame benefit of your expertise. Think about what people gain or lose when they work with you – often time or money. So let's say you help people spend less time worrying about finances and more time doing what they love with their families.
Specifically who you provide it for. Let's say you focus on high net-worth entrepreneurs.
What makes you uniquely qualified. Let's say you were an former entrepreneur, so you learned little-known tax tricks that weren't taught in school.
Your personal brand statement combines these into a short, punchy narrative.
For example: "I help high net-worth entrepreneurs strategically invest so they can spend more time doing what they love – and less time worrying about their money. As a former entrepreneur, I leverage the little-known tax secrets that aren't taught in school, saving my clients hundreds of thousands of dollars."
Fill in the blanks below to create your personal brand statement:
1. What expertise do you provide?
People turn to me when they need:

_________________

I've always been really good at:

_________________

Skills/strengths I'm most proud of:

_________________

People consider me an authority on:

_________________
Examples: Identifying problems, seeing the details, leading, delegating, performing analysis, fact finding, crunching numbers, anticipating risk, motivating, mentoring, innovating, managing conflict, writing, listening, communicating.
Why it matters: Clearly identifying your strengths helps people get a quick snapshot of who you are. Potential employers and clients can easily imagine working with you and succeeding in your next position once they know what you're good at. Declaring your expertise makes it easier to find and earn followers who want the skills you provide, this is great for strengthening your personal brand.
2. What is the endgame result of your expertise?
When I work with people, they end up with more:

_________________

When I work with people, they end up with less:

_________________
Examples: More money, more time, more career opportunities, etc. Less headaches, less time wasted, less money spent, etc.
Why it matters: When attracting employers, clients, partners, and followers, reinforce your credibility with results. In addition to giving these people a reason to believe you, you're showing them what kinds of results they can expect from your brand.  So go ahead and package your past successes as proof of your value.
3. Who specifically do you provide this benefit for?
The type of people that need me most are:

_________________

Type of people I truly connect with are:

_________________
Good examples are specific: Foster children, environmental activists, struggling small business owners, famous musicians, disabled veterans, etc.
Why it matters: You can't be the best at something for everybody. The most effective brands hone in on who they serve. Narrowing your focus limits your competition and positions you as the go-to person for a specific target audience. This maximizes your ability to attract opportunities that are an excellent match.
4. What makes you different from your competition?
Three words that describe my essence:

_________________

Experience that makes me unique:

_________________

Personality traits or values:

_________________

My "freak factor" that makes me unusual:

_________________
Example: A CEO of a home decor manufacturer identified a sense of humor as his top attribute. He realized that what made him different was an engaging sense of comic relief that could unify teams and calm fiery situations. This trait became a critical part of his personal brand statement.
Why it matters: Your strengths, skills and experiences show that you're qualified – but it's your quirks that keep people interested. Distinguishing yourself from the rest of the pack is the key to building a brand that can build and maintain an audience because it accurately reflects who you are.
5. Now Pull Out Your Best Answers to Each Question Above
Identify the single most compelling answer from each question (or two if you can't decide), and write them out below.
The expertise you provide:

_________________

The endgame benefit of your expertise:

_________________

Specifically who you provide it for:

_________________

What makes you uniquely qualified:

_________________
6. Put It All Together Into One Final Statement
Now combine your answers above into a concise statement. Keep it short, factual, and avoid the common pitfalls below.
____________________________________________________________________________________________________________________________________________________________________________________________________________________________________________________________________________________________________________________________________________________________________________________________
Make sure that you don't:
Use cliché buzzwords.

People are tired of hearing overused words like synergy, value-added, dynamic, best of breed, seasoned, self-motivated, highly-qualified and innovative. Even if you are all these things, avoid saying it. Just show it through your accomplishments.

Make hyperbolic or exaggerated claims.

Although it can be tempting to describe your work as disruptive or revolutionary, or proclaim that you're a guru or expert, don't do it. People will roll their eyes at you and you'll come off as full of hot air.
When it comes to creating your personal brand statement, strike a balance. You don't want your humility to undersell or cloud your accomplishments, but you also don't want your ego to oversell you. When it comes to your brand statement, get to the heart of who you are, what you've accomplished and how you help others. The example above shares all of this info and gives examples of where my work has been featured.
4. Create alternate versions for each profile
Now that you have the heart of your personal brand statement completed, you have something to work with! If you have already created social media profiles, consider refreshing them with shortened versions of your new statement. If you haven't built any social media profiles yet, visit our other guides to start building your brand. While it's tempting to have the exact same bio on each platform, unique content is viewed positively by search engines like Google. With that in mind, we suggest that you slightly alter your bios professional networking sites.
For example, if your LinkedIn bio says:

"Pete Kistler designs software that helps professionals, consultants and entrepreneurs to clean up, improve and monitor how they look online. When employers mistook Pete for a criminal with the same name in Google and rejected his job applications, he discovered that skills alone are not enough in today's job market. So he dedicated his life to building tools that now help millions of talented people who were previously getting overlooked make a great impression online – and win the opportunities they deserve. His web-based tools are powered by his world-class Reputation Engine™ technology and have been featured on all major publications including NPR, WSJ and Forbes."
And Your Twitter bio might say:

"Co-founder & Chief Product Officer at

BrandYourself

,

a DIY tool to control your own Google results… musician, wordplay lover and optimist :)"
While Your BrandYourself bio says:

"I'm Pete Kistler, co-founder and Head of Product at BrandYourself."
Note that these bios vary in length and content, yet they express some of the same information.
To learn more about building your personal brand, sign up for our reputation management software. Our tool features extensive content on brand building from resources like BrandYourself University as well as powerful features that help you identify red flags on your social media profiles. BrandYourself's DIY tool helps you build, monitor and protect your online presence with automatic alerts and detailed steps on building and optimizing your ideal online presence.