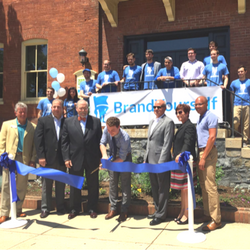 BrandYourself Lancaster Officially Opens Its Doors
---
We cut the ribbon, so it's official!
We are pleased to announce the official opening of BrandYourself's second office in Lancaster, Pennsylvania! While the BrandYourself team jump-started operations at our newest location in April, we recently hosted a ribbon cutting ceremony to publicly commemorate the occasion. 
Distinguished members of the local community joined BrandYourself team members as CEO and Co-Founder, Patrick Ambron cut the blue ribbon.
Since January of this year, BrandYourself has been welcomed with open arms by countless members of the city of Lancaster Pennsylvania, and we couldn't have been happier to celebrate with so many of them.
The ceremony included remarks from Patrick as well as several organizations that have been crucial to our move: 
Mike O'Brien (President, Oak Tree Development Group)

Bob Shoemaker (President & CEO, Lancaster City Alliance)

Sheri Collins (Deputy Secretary, Office of Technology & Innovation at DCED) 

Rick Gray (Mayor, the City of Lancaster)
Each address, while unique in it's own right, voiced a sense of pride in the city of Lancaster and a conviction in its offerings to residents and businesses alike – and we couldn't agree more.
Why we looked outside of Silicon Valley & Silicon Alley for our new home
While Manhattan and the Bay Area are often portrayed as the ideal places to incubate successful startups, the truth is, 90% of startups fail within the first three years across the board. We've had three incredible years in Manhattan punctuated by highlights that include: a historic appearance on Shark Tank, glowing features in top magazines, and growing our lean team of 4 to over 70 employees! But as we look to the continued growth of our company, we chose to avoid the most common mistakes of young businesses based in places like NY and CA by finding a new zip code. 
3 common startup pitfalls that convinced us to look outside of NYC:
By The Numbers:

Many startups fail due to the premium costs associated with hubs like New York or San Francisco.

As BrandYourself looked to the future, we saw the value of actively reducing the operating costs of our business by venturing outside of NYC.

Culture Wars: New York is expensive for everyone. This fact breeds hustle in all of its citizens. While drive and focus on the next opportunity are admirable qualities, in New York it comes at the cost of rapid employee turnover rates – one of the highest in the country. By moving outside of such a financially taxing environment, our employees can comfortably grow with the company and continue to maintain strong relationships with their clients over time.
"Startup Life":

We're not interested in spending excessively to look like a cool startup that's made it. At BrandYourself, we believe in building sustainable business operations to consistently meet the needs of our clients.
Why we chose Lancaster:
From the outset of the search for our second home, we knew what we wanted. After researching an exhaustive list of potential locations, we realized that time and time again Lancaster blew the competition out of the water.
Our requirements included:
Accessibility to major cities

An enviably low cost of living

A highly desirable talent pool of quick-learning creative communicators with a strong work ethic

A welcoming community that would help our company integrate into local life.

An unmatched quality of life
We feel so grateful to have found a community that exceeded our wildest expectations, and look forward to strengthening our current ties while forging new ones in the city of Lancaster.
We would like to thank the state of Pennsylvania and Governor Wolf's office, The City Lancaster and the Mayor's office, Lancaster's City Alliance, and Oaktree Development (in addition to all citizens of Lancaster) who have been particularly instrumental throughout the process of opening our office.
We'd also like to thank our extended BrandYourself community for their continued support including our friends, families, investors and advisors.
Read more about why we picked Lancaster, PA and what it means for BrandYourself on Patrick Ambron's personal website.