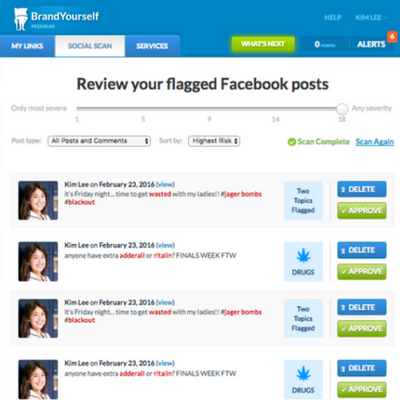 BrandYourself.com Raises $2 Million to Define Next Generation of ORM & Privacy
---
We're excited to announce that we've raised another $2 million to continue to redefine the ORM and privacy space. This latest round is a mixture of new funds like FF Angel as well as existing investors like New Atlantic Ventures and prominent angel investor Barney Pell. This brings our total investment to date to just over $6M.
This investment comes at an important time for BrandYourself as well as the ORMand privacy industry (read more about my thoughts on the industry here). When we started the company in 2009, our mission was to bring the power of ORM to everyone, not just the wealthy. In that time we've launched tools and services that help people identify/fix issues online–like an old divorce record or ill advised tweet– as well as tools that help people promote the positive things that help their career.
We've grown to 80 employees across two offices, and been lucky enough to receive recognition we never dreamed about when we started – including being named the "Best ORM Service for Individuals" by Business News Daily and one of the "Best Entrepreneurial Companies in America" by Entrepreneur Magazine. We even had the amazing experience of appearing on Shark Tank.
Most recently, we released a feature that scans a user's Facebook & Twitter and alerts them of damaging or potentially polarizing information, like swears, slurs, or mentions of alcohol, drugs, politics, religion, and more.
While we're very proud of the progress we've made, we believe we've only scratched the surface. We weren't in need of raising investment–we were profitable– but there was an opportunity to partner with investors who align with the vision of our company's roadmap and our mission to revolutionize the ORM and privacy space.
In an age of cyber bullying, revenge porn, hate sites, and inadequate online privacy laws, we believe the need to protect and shape your own reputation online is more important than ever before. All it takes is a single tweet or a vindictive post from an ex to derail your career. From college students to seasoned executives, a damaging social media post can happen to anyone — and we see it happen all the time. On the other end, proactively creating a strong online presence greatly helps your career, but most people don't know how to do it.
We will continue to move forward and make our tools more comprehensive, using machine-learning, natural language processing and image recognition to accurately identify items online that influence someone's reputation. This includes finding items like bad images and exposed private info while also improving our ability to recommend actions to help better protect people online and build a stronger digital footprint.
Try BrandYourself's new Social Scan feature. Preview 5 posts/comments flagged by the scanner with a free BrandYourself account. Upgrade to BrandYourself Premium to access and review all potentially damaging posts, unlock ongoing monitoring of your profiles, and get alerts if anything controversial pops up – now and in the future. For a limited time get 25% off Premium with promo code: SOCIALSCAN