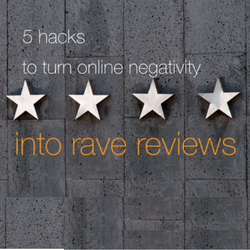 5 Hacks to Turn Online Negativity Into Rave Reviews for Your Business [WEBINAR]
---
Webinar on Thursday, March 3rd, at 12pm EST.
As a small business owner, you face a number of obstacles when it comes to getting your company off the ground, but don't let your online reputation be one of them. Even if you don't currently have any negative search results, they can happen to anyone at any time. From a one-time bad experience, to a former employee with an axe to grind, negative search results  happen – whether they are warranted or not.
With this in mind, CEOs, Patrick Ambron of BrandYourself and Dave Kerpen of Likeable Local host a conversation on negative search results for small business owners in a joint webinar on Thursday March 3rd at 12pm EST.
The topics will include:  
How to protect your business against negative search results (before they happen)

What to do if a customer complains about you or your business on social media

How to suppress negative search results
Whether you launched your small business a few months ago or a few decades ago, your online presence is critical when it comes to maintaining and growing your business. Find out how to make your online presence more presentable by joining Dave Kerpen and Patrick Ambron for their joint webinar on Thursday, March 3rd at 12 pm EST.