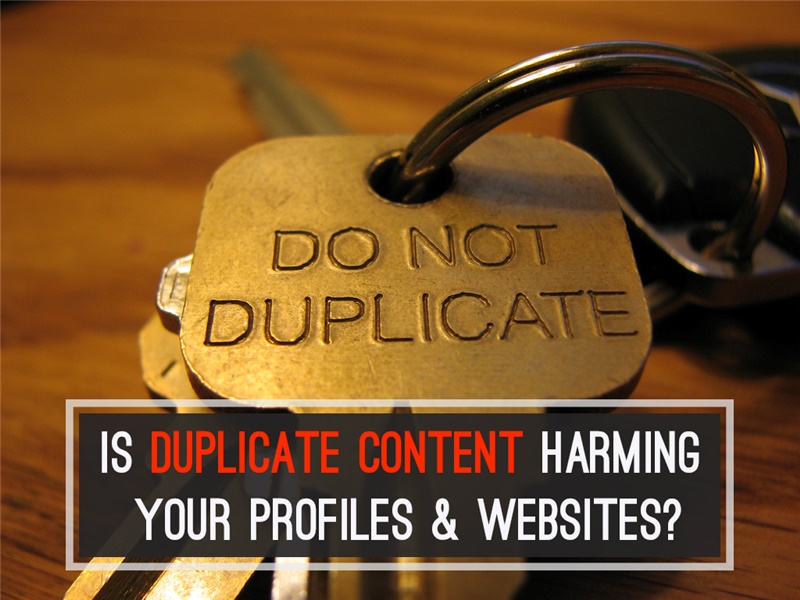 Is Duplicate Content Harming Your Profiles & Websites?
---
Is duplicate content on your profiles and websites penalizing your content in Google search results? This guide covers what type of content to look out for and how to avoid a penalty.
To provide its users with the most relevant and accurate search results, Google is constantly updating the many factors and algorithms that it uses to determine how different search results rank. In the case of your personal online reputation, these algorithms determine what shows up when someone Googles your name.
As Google's algorithms grow more and more intelligent, it's important to stay on top of the updates to make sure that you don't unintentionally fall into a penalty that can negatively impact your search results and cause your personal website or profile to fall in rankings. The process of actively managing and improving websites & profiles so that they rank higher in search engines, Search Engine Optimization (SEO), can be a time consuming and complicated process. However, there are a few basic concepts to understand, especially what NOT to do that can end up harming your results.
We started this blog series to tackle the 13 Ways to Get Banned from Google Results that Google outlines in its webmaster guidelines. Today, we're looking at one of the most important factors that search engines take into consideration: content. More specifically, duplicate and scraped content.
Duplicate or scraped content on your website(s) and profiles can result in:
lower rankings
traffic loss
less relevant results
penalized/banned from Google search results (yikes!)
What is Duplicate Content?
Duplicate content is content that appears more than once in separate places online. For example, if you have the same article republished on multiple websites verbatim or have the same bio on all your social media profiles. Search engines get confused by duplicate content and have trouble deciding which version is more relevant for search results. As a result, it can end up harming both sites that the content appears on.
What is Scraped Content?
Scraped content is very similar to duplicate content content that has been taken or scraped from other, usually more reputable, sites. When people use scraped content, they believe they are building up their volume of pages as a long-term strategy but they are ignoring the importance of uniqueness and relevance of content. Scraping content from any website, even high-quality sources, such as The NY Times, does not benefit your online reputation in any way. It is always best to have fresh, unique content that will set you apart and have you rank high on Google.
How to Avoid Duplicate & Scraped Content:
A good rule of thumb: if you're not intentionally trying to game the system, you probably will not receive a penalty by Google. HOWEVER, there are some common pitfalls that can result in duplicate content that you may not realize. These include the same bios and 'about me' sections across different profiles, republished blog posts, signing up for social media profiles with existing profiles (like a LinkedIn or Facebook login) and any other place that you may be republishing blocks of information on the web.
So what can you do to avoid it?
Write unique bios for each social media site – It may be tempting (and definitely time-effective) to use the same bio and "about me" for each profile you create, but its important that these remain unique.
Be careful for signing up for an account with an existing profile – Many sites make it easy to create an account by allowing you to signup with an existing  profile (Facebook, Twitter & LinkedIn are the most common sites to signup with). This takes info from the existing profile in order to populate the new profile that you're signing up for, saving time and extra steps. When doing so (like using your LinkedIn to sign up for a free BrandYourself account and profile!), make sure to log in to the new profile and rewrite the bio so that it is unique. While most of the information, like your name, location, industry, profession, etc. won't be considered duplicate content, pay special attention to bio sections.
Run your content through a content checker – A quick way to check if you have duplicate content, is to run it through a free content checking website like, copyscape or siteliner.
Avoid republishing the same content in multiple places – If you wrote a blog post that you're really proud of, you may be tempted to republish it a bunch of different places. Try to avoid posting it in full on multiple sites. Instead, summarize and link back to the post back on your blog or the website that it was originally published on.
Writing new, relevant content on your websites and profiles is always the way to go, especially as Google's algorithms grow smarter in weeding out stuff like duplicate content. Wonder how YOUR websites and profiles stacks up, schedule a free personal branding consultation with us and we'll provide specific steps for how to put your best foot forward online and avoid a Google penalty.