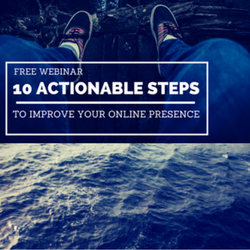 [FREE WEBINAR] 10 Actionable Steps to Improve Your Online Reputation
---
Join us Thursday, October 27th at 2pm EST for a free webinar on "10 Actionable Steps to Improve Your Online Reputation"
We live our entire lives online. Don't let a single social media post or Google result damage your career or personal life. Employers, clients, colleagues, and even dates are all looking you up online and making decisions based on what they find.
In our latest webinar, we cover 10 actionable steps you can start taking right now to improve your online reputation, including how to:
Clean up anything potentially damaging (like negative Google results or social media posts)
Diagnose your existing online reputation so you can make the best plan to reach your specific goals
Build the sites and profiles you need based on your industry
Optimize & maintain your online presence according to best practices
Safeguard your reputation from anything damaging in the future
We'll also open it up to Q&A to answer any questions you have about maintaining your online reputation.
Can't join us live? Register to be emailed a recording after the webinar. In the meantime you can visit our online reputation management guide for additional information.